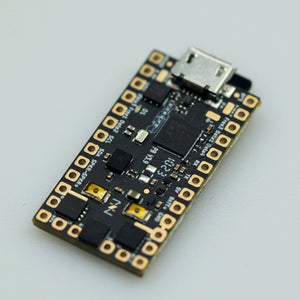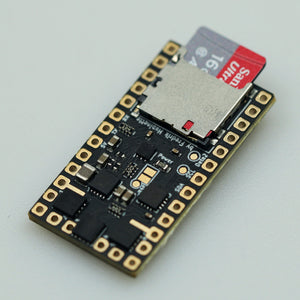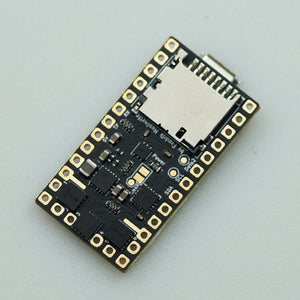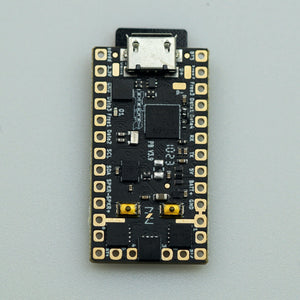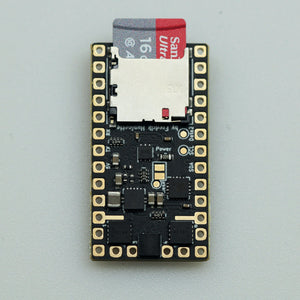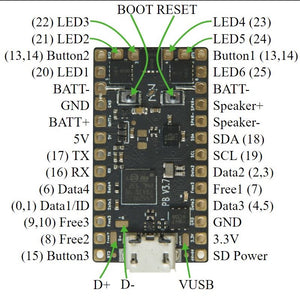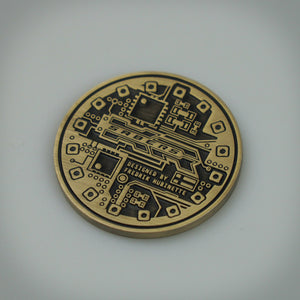 The new Proffieboard v3.9 now uses a new CPU. The new CPU runs at the same speed and mostly the same as the old CPU on Proffie v2.2, but it has a few important differences: More RAM, FLASH and pins!
Here is a list of improvements for Proffieboard V3.9 over the v2.2:

More FLASH (512kB instead of 256kB): This means more presets, but it also means you can now turn on optimization without running of of memory
More RAM (160kB instead of 64kB): No immediate effect, but makes mp3 and echo effects possible
More PINS: New CPU is BGA with 64 pins instead of 48. This means more data pins, and and other things, listed below.
Faster SD card access. The new board uses SDIO instead of SPI to access the SD card. SDIO is significantly faster than SPI. In initial testing I got 20 parallel streams. This means less problems with SD card and more CPU for doing other things.
USB charging: The V3 board has onboard charging configured for 450mA charge speed.
An onboard status LED helps show what the board is doing and when something goes wrong.
Three new "free" pads. These can either be used to drive 20mA LEDs directly, or as neopixel data pads, button pads or servos. The SWDIO, SWDCLK and RESET pads have been moved to the bottom of the board to make room for these new pads.
DM/DP/VBUS pads for external USB
Spot for additional large capacitor if needed (helps when driving BT modules)
Two CPU pins are already tied together for Data1, making blade ID work without additional components
Power and AUX buttons are wakeup capable, unlocking the possibility of a deep sleep mode
Several other pins have been tied together as well, giving each pin more functions. This unlocks additional serial/SPI/I2S/I2C ports and analog pins. There are a LOT new possibilities for interfacing with other boards.
All of this in exactly the same size as a Proffieboard V2.
These are more advanced boards to use and it is recommended to read the detailed manual before use.
Listing includes 1 x Proffieboard v3.9.
You have the option now to add a Sandisk 16GB Micro SD Card with the pre-loaded default font packages.
More board information and diagrams can be found here. You can also follow the launch discussions here. 

Specifications:
80Mhz ARM processor
160kb RAM
512kb Flash
3 button pads (capacitive touch capable)
4 neopixel data pads
3 use-for-anything pads
3 serial ports
3 i2c ports
2 SPI ports
6 FETs
6-axis motion chip
3-watt amplifier (mono)
S/PDIF or I2S output
450mA USB charging
SDIO sd card reader
onboard status LED
center-board pads for: USB, SWDIO and additional 3.3v capacitor
Technical info:
BATT+ - 2.6 to 5 volt input, drives everything except the LEDs
BATT- - negative pad for LEDs, needs to be at same level as GND when both are connected. Note that there are two of them, which can be useful when driving many powerful LEDs.
GND - ground for electronics except LEDs. Note that the two GND pads are interchangable and connected through the board.
Button 1/2/3 - Hook up to closing buttons, or potentially touch buttons.
Data 1 / ID - Normally used to measure the blade ID restor, and if it's a neopixel blade, feed out neopixel data. For a fixed non-neopixel saber, it could be repurposed. Note that this pin has an internal 470 ohm resistor on it, so when hooked up to a neopixel blade, it does not need any resistors.
Data 2-4 - additional neopixel data outputs, or free for other purposes.
Free 1-3 - Can be used as buttons, additional neopixel outputs, pwm or servos
LED 1-6 - Hooks up to negative side of LED (positive side of LED hooks up directly to battery.) These pads can handle up to 30 volts.
SD Power - FET-controlled 3.3v. can be used to power down bluetooth and displays in low-power mode.
SDA, SCL - i2c bus, used internall to talk to the motion sensing chip.
5v - generated by the proffieboard, normally it's only on when sound is playing.
3.3v - generated by the proffieboard.
GPIO - (general purpose in-out) all gpio pins can be used as neopixel ouputs, button inputs, IR reading inputs and many other purposes.
PWM - (pulse-width modutlation) pwm-capable pads can be used to drive LEDs and servoes. The PWM can control the brightness of the LED or the angle of the servo.
Analog - analog-capable pins can use analogRead() to read voltages between 0 and 3.3v volts. (Voltages outside this range may damage the board.)
Serial - simple serial ports for talking to other chips.
i2c, SPI - buses for talking to other chips.
S/PDIF, I2S - audio output options
Wakeup - deep-sleep wakeup capable pins
DAC - digital-to-analog capable pins
IR - ir output pin

PLEASE NOTE: These boards have been fully tested and approved prior to shipping. It is highly recommended to have a professional saber builder install this board. If you wish to install yourself; it is at your own risk. KR Sabers, The Saber Armory or Fredrik Hubinette cannot be held responsible for any damage to the board during installation. If there are any technical issues with the installation of the board please get in touch and we can forward you various information including groups and forums where troubleshooting can take place. These boards will have a 90-day warranty.
Please be sure that before ordering, you are fully aware of the shipping policies outlined here:
https://thesaberarmory.com/shipping-policies/
Terms and Conditions
Please read these Terms and Conditions ("Terms", "Terms and Conditions") carefully before using the https://www.thesaberarmory.com website (the "Service") operated by KR Sabers Ltd. ("us", "we", or "our").
Your access to and use of the Service is conditioned on your acceptance of and compliance with these Terms. These Terms apply to all visitors, users and others who access or use the Service.
By accessing or using the Service you agree to be bound by these Terms. If you disagree with any part of the terms then you may not access the Service.
Purchases
You are encouraged to familiarise yourself with your rights contained within the Sale of Goods Act 1979, Unfair Contract Terms Act 1977 and the Unfair Terms in Consumer Contracts Regulations 1999.
If you wish to purchase any product or service made available through the Service ("Purchase"), you may be asked to supply certain information relevant to your Purchase including, without limitation, your credit card number, the expiration date of your credit card, your billing address, and your shipping information.
You represent and warrant that: (i) you have the legal right to use any credit card(s) or other payment method(s) in connection with any Purchase; and that (ii) the information you supply to us is true, correct and complete. You expressly agree that KR Sabers Ltd. is not responsible for any loss or damage arising from the submission of false or inaccurate information.
By submitting such information, you grant us the right to provide the information to third parties for purposes of facilitating the completion of Purchases.
We reserve the right to refuse or cancel your order at any time for certain reasons including but not limited to: product or service availability, errors in the description or price of the product or service, error in your order or other reasons. You expressly agree that KR Sabers Ltd. cannot accept any liability for loss or damage arising out of such cancellation.
We reserve the right to refuse or cancel your order if fraud or an unauthorised or illegal transaction is suspected.
Returns
Please see our dedicated Returns Policy page here.
Cancellations
Please note, that unless specified otherwise in the item description, cancellations are permitted as long as requests are received in a reasonable time frame. From 2020, any cancellations or refunded payments will incur a 5% cancellation fee. PayPal and Shopify now do not reimburse payment processing fees after refunds are processed. Therefore if you place an order, and then decide before shipping that you would like to cancel it, the refunded amount will be net of a flat rate fee of 5%. This is to cover the payment processing fee and the admin time spent processing the cancellation. 
If a cancellation request is received after your order has already begun processing for packing, there will be a 10% cancellation charge deducted from the order value. This charge is to cover the time already spent packing and preparing your order. It also covers the process of unpacking, discarding of any postage & packing materials used and restocking of the items.
Shipping Policy
Our dedicated shipping policy can be found by clicking here. It is important to understand this prior to ordering. 
Warranty (For ECO Lightsaber Products)
Limited Warranty covers defects in workmanship for the Product for a period of 6 months from the original date of Receipt from The Saber Armory. This limited Warranty does not cover any damage due to (1) acts of God, accident, misuse, abuse, negligence, improper handling, commercial use or modifications of this Product, or normal wear and tear; (2) improper operation or maintenance of this Product; or (3) attempted repair by any party other than The Saber Armory.  This includes opening ECO Sabers in any place.
*This Limited Warranty does not apply where it is determined by The Saber Armory that there is no fault with the product itself. Repairs not covered by the Limited Warranty may, at The Saber Armorys' discretion, be carried out at the owner's expense.
You, the customer, are responsible for the cost of return shipping to and from The Saber Armory.
Component electronics, such as soundboards, batteries and/or LEDs are not warranted by The Saber Armory, since we do not manufature them.
*If you attempt to repair the item yourself, the warranty is VOID. We can still repair, but it will be at the buyer's expense.
Warranty is non transferable.
GOTH3Designs Chassis Purchases
The PIY files and associated 3D models are for personal and nominative use only. These PIY files are non-refundable or exchangeable after purchase. 
Commercial use is prohibited. The files and models may not be used in any way whatsoever in which you charge money, collect fees, or receive any form of remuneration.
The PIY Files, 3D models and resulting 3D printed chassis may not be resold or shared by any means with a third party.
These files are to be use on your own 3D printer only.
For ECO-Chassis (printed items), please note, it is not possible to cancel or exchange the purchase if the chassis has already been printed. We print all chassis to order and therefore cancellations or exchanges are not possible. 
Administration Charges
Any manual administration of orders as a result of customer purchasing may incur an administration charge. These may include, but not limited to: Address changes, postal claims, shipping refund requests and order item changes. We recommend that customers ensure they review their information carefully before completing their purchase to avoid any of these charges.
Availability, Errors and Inaccuracies
We are constantly updating our offerings of products and services on the Service. The products or services available on our Service may be mispriced, described inaccurately, or unavailable, and we may experience delays in updating information on the Service and in our advertising on other web sites. You expressly agree that any such offer of a product or service does not constitute a legal offer capable of attracting legal consequences.
We cannot and do not guarantee the accuracy or completeness of any information, including prices, product images, specifications, availability, and services. We reserve the right to change or update information and to correct errors, inaccuracies, or omissions at any time without prior notice. Section "Availability, Errors and Inaccuracies" is without prejudice to existing statutory rights.
Contests, Sweepstakes and Promotions
Any contests, sweepstakes or other promotions (collectively, "Promotions") made available through the Service may be governed by rules that are separate from these Terms. If you participate in any Promotions, please review the applicable rules as well as our Privacy Policy. If the rules for a Promotion conflict with these Terms and Conditions, the Promotion rules will apply. The terms and conditions of any other "Promotions" are independent of this agreement.
Pre-Order Items
For Pre-Order items it will not be possible to cancel after your purchase has been made. Once you have made the payment, you are committed to your purchase. There is no exceptions for this.
Accounts
When you create an account with us, you must provide us information that is accurate, complete, and current at all times. Failure to do so constitutes a breach of the Terms, which may result in immediate termination of your account on our Service.
You are responsible for safeguarding the password that you use to access the Service and for any activities or actions under your password, whether your password is with our Service or a third-party service.
You agree not to disclose your password to any third party. You must notify us immediately upon becoming aware of any breach of security or unauthorized use of your account.
You may not use as a username the name of another person or entity or that is not lawfully available for use, a name or trade mark that is subject to any rights of another person or entity other than you without appropriate authorization, or a name that is otherwise offensive, vulgar or obscene. You expressly agree that we cannot be held liable for any loss or damage arising out of any misrepresentations you make in this regard.
Intellectual Property
The Service and its original content, features and functionality are and will remain the exclusive property of KR Sabers Ltd. and its licensors. The Service is protected by copyright, trademark, and other laws of both the United Kingdom and foreign countries. Our trademarks and trade dress may not be used in connection with any product or service without the prior written consent of KR Sabers Ltd. Please note that KR Sabers Ltd. is not associated with LUCASFILM LTD. or any LFL Ltd. Film or Franchise
Links To Other Web Sites
Our Service may contain links to third-party web sites or services that are not owned or controlled by KR Sabers Ltd. .
KR Sabers Ltd. has no control over, and assumes no responsibility for, the content, privacy policies, or practices of any third party web sites or services. You further acknowledge and agree that KR Sabers Ltd. shall not be responsible or liable, directly or indirectly, for any damage or loss caused or alleged to be caused by or in connection with use of or reliance on any such content, goods or services available on or through any such web sites or services.
We strongly advise you to read the terms and conditions and privacy policies of any third-party web sites or services that you visit.
Termination
We may terminate or suspend your account immediately, without prior notice or liability, for any reason whatsoever, including without limitation if you breach the Terms.
Upon termination, your right to use the Service will immediately cease. If you wish to terminate your account, you may simply discontinue using the Service.
All provisions of the Terms which by their nature should survive termination shall survive termination, including, without limitation, ownership provisions, warranty disclaimers, indemnity and limitations of liability.
Indemnification
You agree to defend, indemnify and hold harmless KR Sabers Ltd. and its licensee and licensors, and their employees, contractors, agents, officers and directors, from and against any and all claims, damages, obligations, losses, liabilities, costs or debt, and expenses (including but not limited to attorney's fees), resulting from or arising out of a) your use and access of the Service, by you or any person using your account and password, or b) a breach of these Terms.
Limitation Of Liability
In no event shall KR Sabers Ltd. , nor its directors, employees, partners, agents, suppliers, or affiliates, be liable for any indirect, incidental, special, consequential or punitive damages, including without limitation, loss of profits, data, use, goodwill, or other intangible losses, resulting from (i) your access to or use of or inability to access or use the Service; (ii) any conduct or content of any third party on the Service; (iii) any content obtained from the Service; and (iv) unauthorized access, use or alteration of your transmissions or content, whether based on warranty, contract, tort (including negligence) or any other legal theory, whether or not we have been informed of the possibility of such damage, and even if a remedy set forth herein is found to have failed of its essential purpose.
Disclaimer
Your use of the Service is at your sole risk. The Service is provided on an "AS IS" and "AS AVAILABLE" basis. The Service is provided without warranties of any kind, whether express or implied, including, but not limited to, implied warranties of merchantability, fitness for a particular purpose, non-infringement or course of performance.
KR Sabers Ltd. its subsidiaries, affiliates, and its licensors do not warrant that a) the Service will function uninterrupted, secure or available at any particular time or location; b) any errors or defects will be corrected; c) the Service is free of viruses or other harmful components; or d) the results of using the Service will meet your requirements.
Exclusions
Without limiting the generality of the foregoing and notwithstanding any other provision of these terms, under no circumstances will KR Sabers Ltd. ever be liable to you or any other person for any indirect, incidental, consequential, special, punitive or exemplary loss or damage arising from, connected with, or relating to your use of the Service, these Terms, the subject matter of these Terms, the termination of these Terms or otherwise, including but not limited to personal injury, loss of data, business, markets, savings, income, profits, use, production, reputation or goodwill, anticipated or otherwise, or economic loss, under any theory of liability (whether in contract, tort, strict liability or any other theory or law or equity), regardless of any negligence or other fault or wrongdoing (including without limitation gross negligence and fundamental breach) by KR Sabers Ltd. or any person for whom KR Sabers Ltd. is responsible, and even if KR Sabers Ltd. has been advised of the possibility of such loss or damage being incurred.
Governing Law
These Terms shall be governed and construed in accordance with the laws of England and Wales, without regard to its conflict of law provisions.
Our failure to enforce any right or provision of these Terms will not be considered a waiver of those rights. If any provision of these Terms is held to be invalid or unenforceable by a court, the remaining provisions of these Terms will remain in effect. These Terms constitute the entire agreement between us regarding our Service, and supersede and replace any prior agreements we might have between us regarding the Service.
Changes
We reserve the right, at our sole discretion, to modify or replace these Terms at any time. If a revision is material we will try to provide at least 30 days notice prior to any new terms taking effect. What constitutes a material change will be determined at our sole discretion.
By continuing to access or use our Service after those revisions become effective, you agree to be bound by the revised terms. If you do not agree to the new terms, you must stop using the service.
Privacy Policy and Cookie Policy
Please refer to our Privacy Policy and Cookies Policy. You agree that they constitute part of these terms. You must read our Privacy Policy and Cookies Policy before you use the Service.
Contact Us
If you have any questions about these Terms, please contact us.
KR Sabers Limited
Registered office address: 24 Crossways, Sutton, SM2 5LB, United Kingdom
UK Company Number: 08885309